Port-au-Prince, Haiti (CNN) -- Impassable roads, a bottleneck at the damaged airport, an unreachable dock and not enough equipment to unload supplies kept much of the world's help Friday from desperate Haitians.
With thousands of people trapped under the rubble since Tuesday's 7.0-magnitude earthquake, every minute mattered. Officials said the window of opportunity to save many lives was closing.
The arrival of simple, small things, such as pressure dressings to treat open wounds and antibiotics for infections, could make a tremendous difference.
"With medicine, we are not talking about weeks and months down the line -- this is minutes and hours in terms of what is necessary," said Dr. Sanjay Gupta, CNN chief medical correspondent in Port-au-Prince.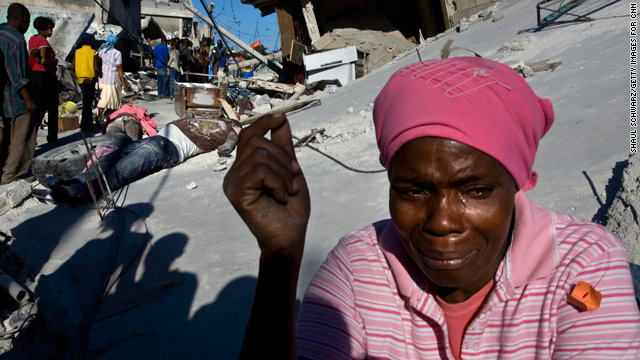 Gallery: Devastation from Haiti earthquake
Video: Taiwan offers Haiti quake aid
Video: Relief worker: 'We need more help'
Video: USAID efforts in Haiti
Dave Toycen, a relief worker with the aid agency World Vision, said that even when roads became passable, "There was a milelong line to get gasoline. We are short the basics."
Get the latest developments on Haiti
Many countries and a long list of relief agencies have sent help to the region. Even with all the logistical struggles, more aid was arriving Friday.
Hundreds more U.S. military personnel were due, among the thousands the nation is sending. The USS Carl Vinson was expected off the coast Friday, carrying 19 heavy-lift helicopters that could bring relief supplies to the devastated nation.
A hospital ship, the USNS Comfort, is due to deploy on the weekend.
Around the world, people have been opening their wallets, contributing millions to Haiti relief efforts.
Former President Clinton, the U.S. envoy to Haiti, called for more donations during a CNN interview Friday.
"The most immediate thing now is for people even to give small amounts of money, but we need large numbers of people giving small amounts of money so we can get food, water, medical supplies and shelter there," Clinton told "American Morning."
"The Red Cross has its operation back up and going; the U.N. is beginning to work," Clinton said. His agency, the Clinton Foundation, will ship more water and food Friday, he said.
Clinton is working together with former President George H.W. Bush.
"Haiti still can resume its path of modernization for the first time in my lifetime," Clinton said. "But we've got to get them through this awful, awful period first."
The Obama administration is deflecting criticism that it should have done more for Haiti more quickly. The retired general who took charge of relief efforts in New Orleans after Hurricane Katrina said Thursday the U.S. military should have arrived in earthquake-devastated Haiti 24 hours sooner.
"I thought the U.S. military could have been there a day earlier," said Lt. Gen. Russel Honore, a CNN contributor.
Obama, speaking at the House Democratic Caucus Retreat later Thursday, acknowledged the scrutiny focused on the U.S. response.
"This is a time when the world looks to us and they say -- given our capacity, given our unique capacity to project power around the world -- that we have to project that not just for our own interests but for the interests of the world as a whole," Obama said.
"And my national security team understands that I will not put up with any excuses for us not doing the very best in this time of tragedy."
White House spokesman Robert Gibbs said he believes the president is pleased with the pace of U.S. response.
U.S. airlines, including American, Delta, JetBlue and United, were helping provide assistance to the country in the form of free miles for its program members and seats for aid organizations.
American was operating humanitarian flights, with three American Eagle aircraft flying 30,000 pounds of supplies into Haiti. Three more such flights were planned Friday. American also is partnering with the American Red Cross by offering one-time awards of 250 or 500 bonus miles for donations.
British Airways offered aid agencies a relief aircraft to fly more emergency supplies and equipment. The plane that can hold 50 tons of supplies will be ready to fly to Haiti on Saturday, the airline said in a statement. A volunteer British Airways crew will man the plane, and the company also pledged close to $900,000 in fuel and money for supplies.
Belize, Brazil, China, Chile, Spain, Canada, Israel, Iceland, Ireland, the United States and Morocco were among the many countries offering aid. The United Kingdom announced it would provide $10 million for relief efforts.
U.N. Secretary-General Ban Ki-Moon said Thursday the quake's aftermath represented "a major humanitarian disaster."
He said the United Nations on Friday will issue a "flash appeal," which the world body defines as a tool for structuring a coordinated humanitarian response for the first three to six months of an emergency.
Many global agencies also were assisting. The World Bank pledged $100 million in emergency funds. The World Food Program said it had a six-month plan to get food to 2 million people in Haiti.